'Virtual Cheers' for CMS attainment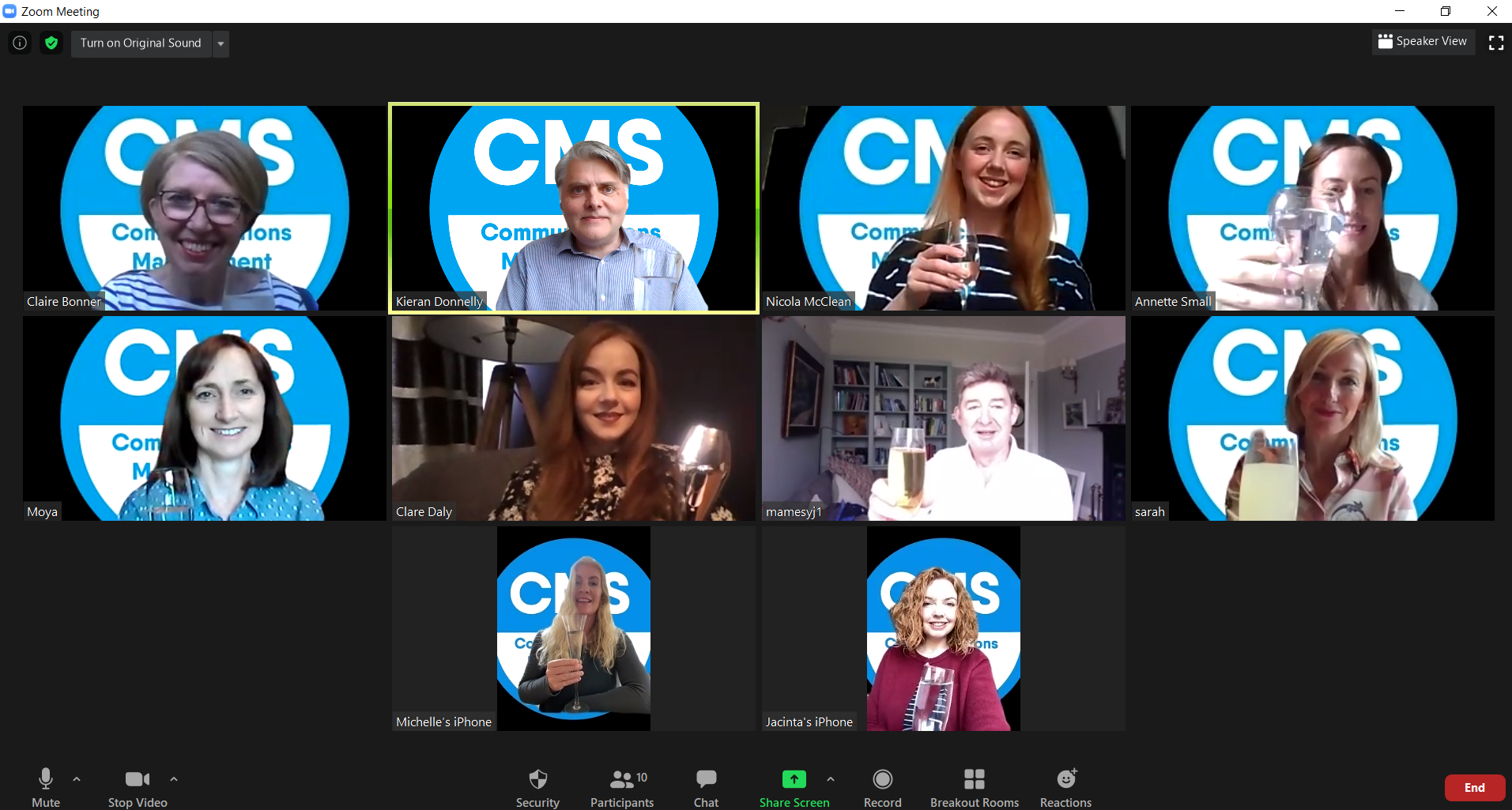 We couldn't let lockdown spoil the celebrations of our recent attainment of the PRCA Communications Management Standard (CMS), the internationally recognised hallmark of excellence within the PR and Communications industry, so a lunchtime 'virtual cheers' was the order of the day.
Awarded by the Public Relations & Communications Association (PRCA), we are the only communications consultancy in Northern Ireland who currently hold the accreditation, which certifies excellence across all aspects of the company. We were the first NI company to achieve the Standard over 12 years ago and we have since been reaccredited following a recent independent assessment by the PRCA.
The CMS combines elements of the international standard ISO 9001 and Investors in People with criteria specific to a PR and communications consultancy. In order to be successful, we were put through a rigorous assessment across all elements of the business, ranging from client satisfaction, campaign management and its approach to diversity, to financial management, leadership and communication and business planning.
Speaking about the achievement, Kieran Donnelly, Director of Morrow Communications said:
"We believe it has never been more important to maintain high standards in our work given the challenges of recent times. Achieving the Communications Management Standard once again is testimony to the continued focus we place on delivering quality in all that we do, whether that is in the services we provide to our clients or how we develop and support our people.
"As our services and client base continue to grow and develop throughout the island of Ireland, GB and beyond, we are committed to retaining our ethos of professionalism and integrity. We believe that this not only demonstrates our commitment to our clients and partners, but it will help us attract and retain the very best in communications talent to help us grow."
Following completion of the assessment, Carol Magill MPRCA, CMS Assessor said;
"Congratulations to Morrow Communications who have been awarded the Communications Management Standard (CMS) for the 12th year and are the only Agency in Northern Ireland who currently have this accreditation. CMS is a hallmark of Communications and PR excellence and Morrow Communications demonstrated through the audited process that they are an Agency that has its clients at the heart of all they do, and a variety of safeguards in place to ensure they deliver across supplier relationships and campaigns. The Agency's evidence on business planning was especially strong, and this has placed them in a strong place, to tackle the challenge of delivering communications and marketing in this "new normal" we all face as we learn to live and work with Covid-19."
Thanks to the whole team for their continued dedication and professionalism, both of which have been tested thoroughly in recent months and passed with flying colours.