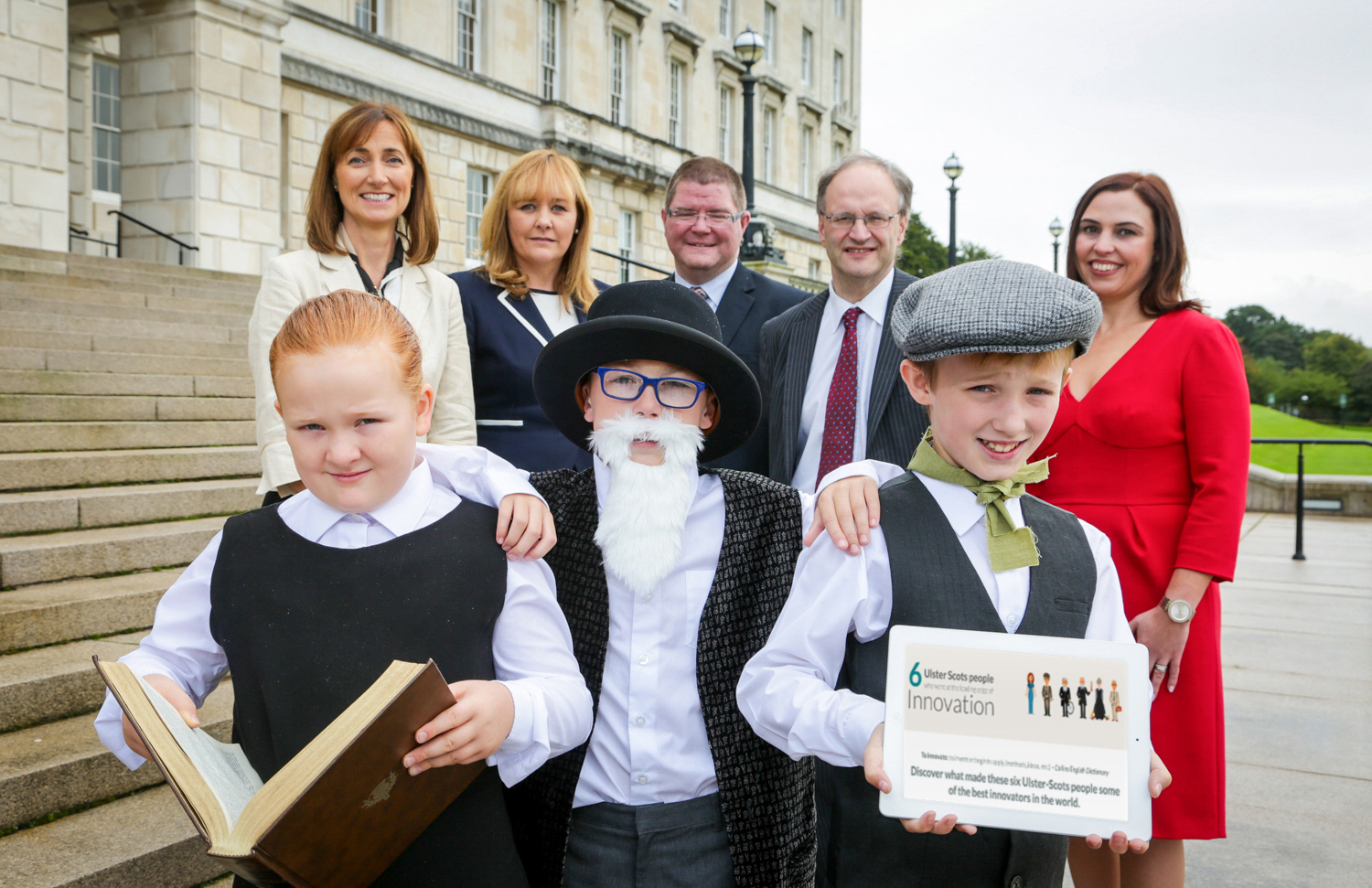 A unique learning resource, created by the Morrow's production team and starring budding young presenters from schools across Northern Ireland was launched by Education Minister Peter Weir MLA at a recent event in Stormont.
'Our Innovators: An Ulster-Scots Legacy ', is an exciting new educational tool which examines the legacy of local visionaries with Ulster-Scots connections and is available free of charge online.
Designed for Key Stage 2 pupils, the comprehensive interactive resource delves into the lives of six remarkable innovators. It focuses on the lives of missionary Amy Carmichael and engineer Harry Ferguson both from Co Down, John Boyd Dunlop, who invented the first pneumatic tyre in Belfast, gifted scientist and mathematician Lord Kelvin, educational innovator Margaret Byers and Professor Frank Pantridge who invented the portable defibrillator.
Developed in association with a steering group of teachers, the bespoke programme covers a breadth of educational goals set by the curriculum. Children who use the tool can explore the impact of some of the world's greatest inventions, the effect of people on the natural and built environment, while also valuing and celebrating cultural diversity.
'Our Innovators' is funded by Northern Ireland Screen's Ulster-Scots Broadcast Fund (USBF) and supported by the Ulster-Scots Agency and CCEA. The resource is hosted on a bespoke website – www.ourinnovators.com – and includes teacher guides, lesson plans and interactive material; including educational videos featuring local primary students and interactive games.
We are delighted with the feedback so far and hope that it plays a role in educating more people about our heritage and at the same time showcase some of our best innovators in the hope that it might inspire the next generation to follow in their footsteps. Speaking about the e-learning resource Ian Crozier, CEO of the Ulster-Scots Agency said;
"'Our Innovators' adopts a dynamic and refreshing approach to promoting the rich heritage, history and culture of Ulster-Scots and we are delighted to support Morrow Communications in its development. The teaching applications from 'Our Innovators' are endless. As well as the educational videos, the e-learning resource comes fully equipped with lesson plans, study ideas and interactive games to help schools teach pupils about science, history and culture, or as a useful springboard into many other curriculum topics."
Richard Williams, Chief Executive of Northern Ireland Screen, added
"The Ulster-Scots Broadcast Fund is very keen to support the production of content that can be useful in the classroom teaching the curriculum. We are delighted that Our Innovators is just that, packaging the wonderful role models that these innovators of Ulster-Scots background were and are. We would like to thank Morrow Communications, the Ulster Scots Agency and CCEA for their part in bringing this project to fruition."
You can watch a short teaser of the content here – but visit www.ourinnovators.com for the full resource.