Nourishing mind, body and soul with Morrow's Wellness Month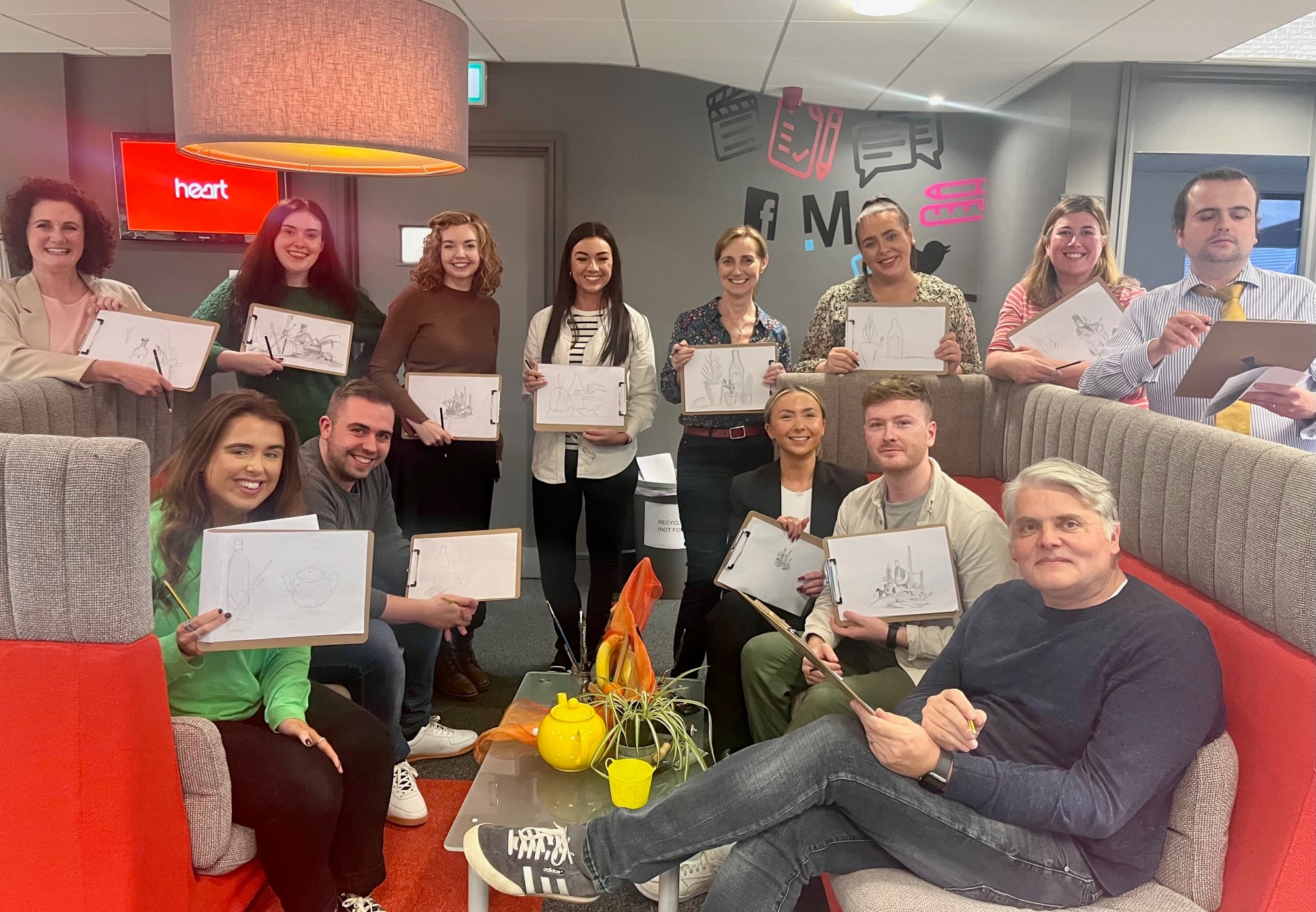 Wellness is a year-round focus for us at Morrow Communications. Our Belong employee experience programme is all about ensuring everyone is empowered, valued, supported, recognised and included. We want our great team to thrive and reach their full potential all while supporting their physical, emotional and mental wellbeing.
Over the past month we have been exploring Wellness from different perspectives. Through art, mindfulness, laughter, reading, relaxation and movement, we reflected on how we can stay well in the face of the challenges life throws at us. As is the Morrow's way, we also had plenty of craic!
We kicked off our Wellness Month with a hearty company breakfast from Toast and some goodies to help us focus on staying well and to promote some self-care. Later that week, we dusted off our fluorescent Lycra, had a stretch, and headed up the road for an invigorating Zumba class (with our own in-house instructor Julie!). This warmup for Wellness Month was great for body and soul.
After we had caught our breath, next up was an amazing 'Mood Matters' seminar from Aware NI. Jess gave us some valuable insights and tips for maintaining a healthy mind at home and in the workplace.
Pablo Picasso once said that "art washes away from the soul the dust of everyday life", so with that in mind we sharpened our pencils and turned the office into a studio for an evening. Jenni Robinson from Boom Studios joined us to help us explore how even just drawing with a pencil can help us unwind and express ourselves in ways we didn't expect. Our talented Creative Services team had a head-start on this one, but the evening uncovered some secret artists among our PR and Events teams too!
Sometimes wellness is about relaxing and taking a moment to yourself. This year's Wellness Month saw the return of one of our favourite wellbeing activities… the Morrow's Spa. The fantastic Therapies at Home NI team transformed our boardroom into an oasis of zen, treating the team to well-deserved massages.
To wrap up Wellness Month, we proved that laughter is in fact the best medicine with a side-splitting, knee-slapping, loud cackle inducing, visit to Lavery's Comedy Club where the host of the evening William Thompson had us howling with laughter.
As we bid adieu to Wellness Month, we reflect on the importance of taking care of our physical, mental and emotional wellbeing all year round. Taking time to relax, recharge the batteries and having some fun helps us grow together as a team. So, in the spirit of Wellness Month, the message is – let's keep looking after each other and let's stay well.