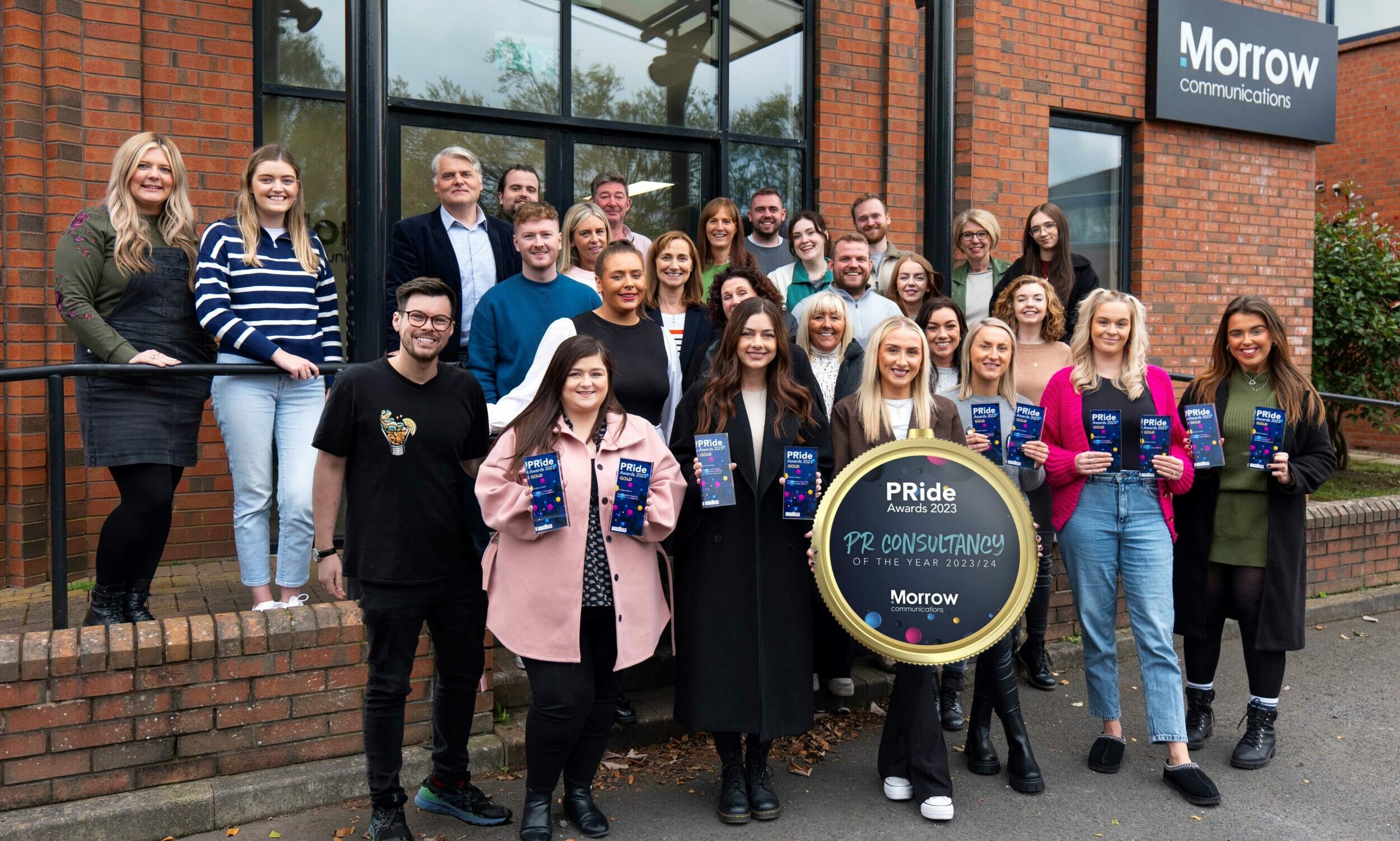 13 turned out to be our lucky number as we were recognised by our peers across the UK as 'PR Consultancy of the Year' once again at the CIPR Northern Ireland PRide Awards ceremony, dubbed 'the nation's annual public relations showpiece', held at The Merchant Hotel, Belfast on Friday 13th.
In total, we picked up 13 awards from 13 shortlisted entries (10 Gold awards and 3 Silver awards) in recognition of our client work over the last year…and what a year it has been. The golds included two each for our Translink 'Play it Safe NI' campaign (Best Public Sector campaign and Best Use of Content) promoting responsible behaviours when using public transport, and for our 'Your Home with AIB' mortgage campaign (Best Consumer Campaign and Best Event).
Our ongoing work with the AIB team on their mortgage products also picked up gold for Best Long-term Campaign. The gold awards kept rolling in for team Morrows team as we also picked up Best Corporate and Business Communications campaign for the important Asda Income Tracker project. The company also pocketed Best Travel, Leisure and Tourism campaign for Translink's Little Explorers and Best Environmental Communications campaign for the Ballylumford Power 2X project. To prove we can also make a little go a long way, we also won Best Low Budget Campaign for our #JustBrewIT campaign for Barista Bar coffee.
The cherry on top was winning the much-coveted 'PR Consultancy of the Year' title, with the judging panel praising the company stating that we were a "clearly well-run business, with an emphasis on personal development" with "results that speak for themselves."
Speaking about the achievements our Managing Director, Kieran Donnelly said; "Being shortlisted for 13 awards on Friday 13th turned out to be a dream night rather than a nightmare and to know that these awards have been independently judged by our peers across the UK is hugely satisfying. We are lucky to have an amazingly talented and hard-working team, as well as fabulous clients who trust us to support their communication efforts. It is truly a team effort and to top it all off with the 'PR Consultancy of the Year' title once more is testimony to that strong collaborative approach we enjoy with our clients.
"The quality of work on display across all the other winners and entrants clearly shows that the communication industry in Northern Ireland remains in very good health and continues to play a strategically important role in helping organisations deliver impactful communications."
Now…we're going to need a bigger trophy cabinet!