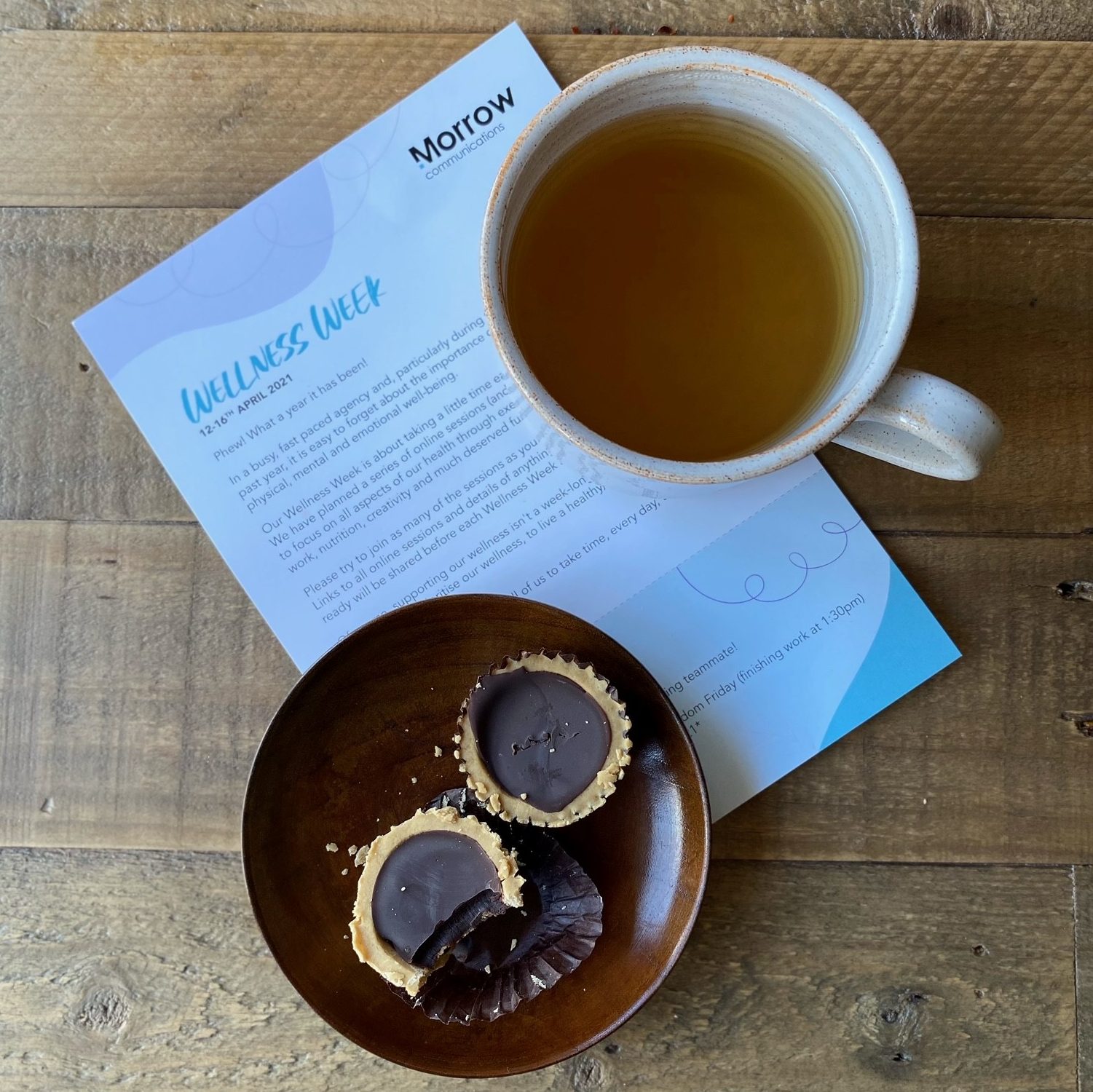 A question we often ask others, but forget to ask ourselves.
Making the time to look after ourselves should never be overlooked. With the additional challenges of working throughout a global pandemic, investing in our emotional, physical and mental wellbeing has never been more important.
Our recent Morrow Communications' #WellnessWeek (12-16 April 2021) brought our team together (albeit digitally) for a series of activities, seminars and interactive online sessions, with the goal of setting time aside each day to focus on ourselves, to remind us of what brings us joy, to help us achieve balance and to think about what our minds and bodies need to function healthily and happily.
We kicked off our Wellness Week with an online yoga session led by experienced teacher Aoife O'Dalaigh who eased us into Monday with calmness and balance. Dr Des Rice led Tuesday's session with an insightful seminar on how to stay calm and effective, whatever your circumstances.
On Wednesday, we focused on nutrition with a tasty lunchtime cookalong thanks to Jonny Phillips of Coppi. Theatre company Cahoots NI showed us the power of our own minds with their magical production, the University of Wonder & Imagination, on Thursday. And to wrap the week up, we gathered together for live comedy with self professed Holywood hero Mike McGoldrick – laughter being good for the soul.
Thank you to our partners and people who put their time and energy into a week that was engaging, inspiring and importantly, fun.
Managing our wellness isn't a week long notion. Our hope is that it will inspire us to make a habit of taking care of ourselves and one another, every single week of the year with many people incorporating practices already into their daily routines. The feedback from the team speaks for itself!
"Dr Rice's advice to stretch and shake daily was so simple but so effective! I do it a few times a day now and it makes me feel like a kid again."
"There were some great yoga exercises for stretching out tired shoulders and backs which have already eased some tension from sitting at my computer!!" 
"The session on Staying Calm was extremely insightful and there are lots of techniques (especially the deep breathing) which I've already tried to introduce into my routine."
"I genuinely found the Wellness Week so calming and beneficial in terms of stress levels and frustration from not being able to do normal day-to-day activities – I was raving on about it to my friends and family."
"The yoga with Aoife was the best start to the week I've had in months, followed by useful advice from Dr Des Rice which I have been doing most days 😊 All round fab really!"