Big Step Forward for new Mencap Centre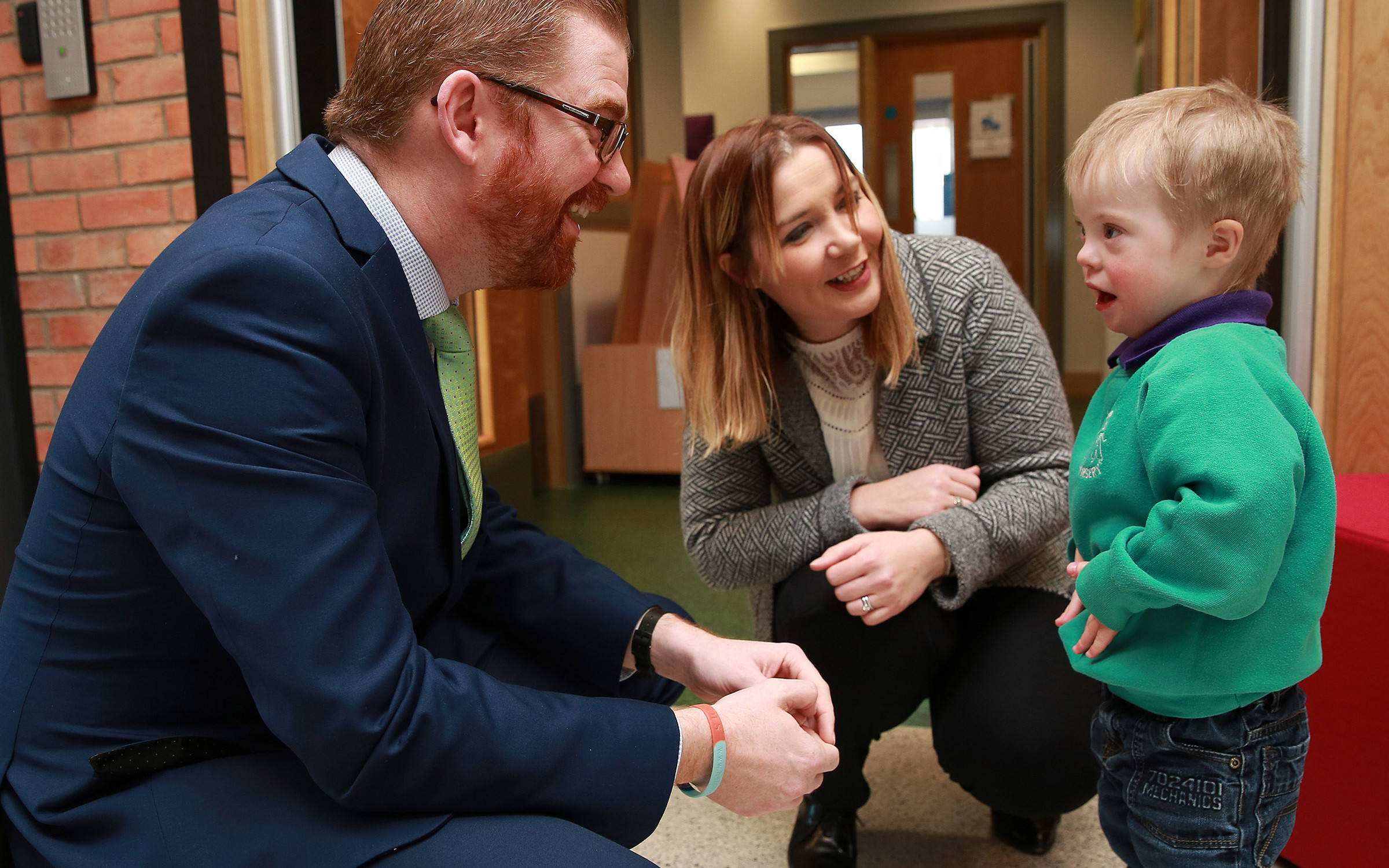 We have been working with the learning disability charity Mencap since 2014 when the organisation launched its Big Step Forward Appeal. The aim of the campaign was to ask the public to help raise £1.7million to build, equip and run a new Children and Families' Centre. The purpose of the Centre is to have a one place that offers all the facilities, support and information children and young people with a learning disability and their families need under one roof.
Since the launch, we have helped Mencap spread the word of their largest fundraising campaign to date. During that time, we got to know the amazing staff who work there and the wonderful children and families who benefit from Mencap's services.
That's why it was so exciting when we finally saw everything come together with the official opening of the Mencap Centre 9th March 2016 by three NI Ministers no less. First Minister Arlene Foster, deputy First Minister Martin McGuinness and Simon Hamilton, Minister for Health, Social Services and Public Safety, joined Luca Heron, a child who attends Mencap's Children's Centre, to officially open the building. The sun was shining and more than 70 Mencap supporters were in attendance to celebrate the event.
The opening of the Mencap Centre was an important day for the learning disability community as the new building will serve as a model for early intervention services across the UK and Ireland and provide much needed support services for families and young adults with a learning disability.It was a wonderful day and we even saw deputy First Minister Martin McGuinness and Margaret Kelly, the director of Mencap in Northern Ireland, jump on a trampoline!
The ups and downs of a busy day at the office for @M_McGuinness_SF at the opening of @Mencap_NI Centre #MencapCentre pic.twitter.com/qXEFgcZR6F

— Morrow Comms (@MorrowComms) March 9, 2016
The opening received great coverage online, in print and on air. In the days following the opening, Gail Walker, the editor of the Belfast Telegraph, dedicated her column to a photo taken at the event which featured First Minister Arlene Foster and deputy First Minister Martin McGuinness.
Gail said the photo was 'what the fruit of real politics look like' and that the photo was a sign of peace. It was a wonderful way to remember the opening.
Now that the Mencap Centre is open, we can't wait to see what the great team at Mencap accomplishes in the future. If you're interested in supporting Mencap, the organisation is the official charity of the Deep RiverRock Belfast City Marathon for the next three years. Team Morrows is taking part in the marathon this year in aid of Mencap and training is well underway. If you'f be interedted in supporting us visit our fundraising page to donate or visit mencapbigstepforward.org to learn how you can support the organisation.