A large helping of Haggis, Neeps and Tatties please!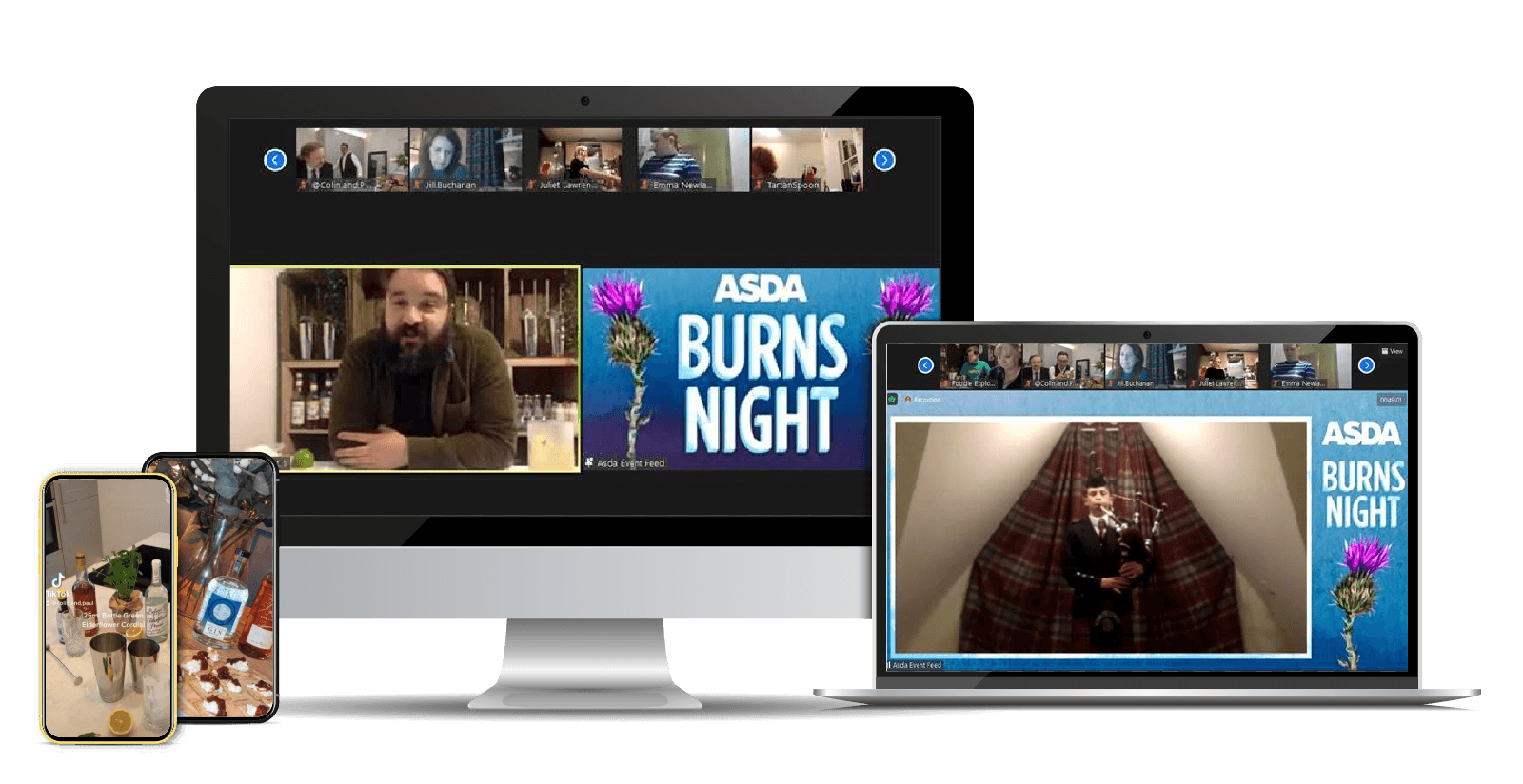 When our client Asda asked us to come up with a creative way to deliver a celebration of all things Burn's Night to Scottish stakeholders (during a lockdown), one thing we knew for sure was we would use the medium of Zoom – drawing on the wealth of experience we have had delivering virtual events for clients throughout 2020.
We wanted the event to be as interactive as possible, to give attendees a real taste of the local products stocked in Asda Scotland stores, and how they could use those products to make 2021 Burn's Night Extra Special – even though it would be a very different celebration this year.
It was essential to bring together all the 'ingredients' we knew a traditional Burns Night had to have, the piping in of the haggis, the meal itself, a wee dram or two and of course a couple of laughs along the way.
How could we deliver this ahead of Burns Night – allowing enough time to showcase Asda's product range to shoppers before the big night itself on 25th January?
We enlisted the support of the very best of Scottish suppliers, namely Edinburgh New Town Cookery School and Shake That Bartending – and put everything in a box, a lovely box! And with that, the virtual 'Burns in a Box' event was born!
Working with suppliers on the ground in Scotland, on Thursday 21st we sent out our Burns boxes to our guests (Scottish media & influencers) filled to the brim with the ingredients to make two Burns themed cocktails (including a bottle of Asda's Extra Special Gin, brewed right in the heart of Edinburgh) & 'Burns Bites' (canapes) – as well as everything they needed to make a three course Burns Supper with wihisky on Monday 25th January.
Once everyone had their Burns Boxes, it was time to don our finest Scottish attire, get our supersonic vison mixing Zoom set up ready and wait for guests to 'arrive' at 6pm.
Asda Scotland buying manager, Heather Turnbull, who works with all Asda's local suppliers in Scotland was our Burns Supper host. Guests enjoyed live cookery & cocktail demonstrations from Edinburgh New Town Cookery School and Shake That, which meant they could create and enjoy two canapes – and a whisky and a gin cocktail in real time.
No good Burns Night would have been complete without bagpipes, and young piper Jamie quite literally played a blinder, giving a rousing performance of Scotland the Brave and Highland Cathedral to open and close the evening.
We left our very happy guests with a Burns Super Spotify playlist, a reminder of the event hashtag #AsdaBurnsNight and the ingredients to make a three course Burns Supper using Asda produce on the Monday evening.
Even though we all missed the interaction and buzz of being at an in-person event, the results and feedback from guests & the coverage garnered heralded a great success & Slàinte mhath!